Year 3 have been talking about what families do together in England. They know that in the past traditionally families would have grown all their own vegetables in a vegetable patch in the garden.
The children decided to set to work in our school garden. They have been planting their own pea pods ready to enjoy and eat when they are ready.
After planting and growing their own produce, the children harvested their leeks and gave them to the kitchen to use in their food.
The children sampled some nettle tea, as the Stone Age people would have drank.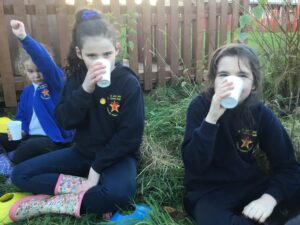 After growing their own rhubarb, the children harvested this and the school cook made them their own rhubarb crumble to sample.